To join the Australian Investment Property Network Today CLICK >>>>HERE
Our Mission
We want members to prosper through wise property investment, continually grow their wealth and be willing to encourage help others to do the same.The Australian Investment Property Network (AIPN) has been created to assist property investors to network and increase their knowledge through "Sharing", "Learning", "Experience" and "Mentoring". Membership of the AIPN is a commitment to the strategy which is been tried and tested for decades and yet only a small percentage of individuals have benefited from the principle of creating wealth. This principle is often called the "Master Mind" revealed by Napoleon Hill in his book "Think and Grow Rich".
Although this is a powerful strategy few have tried it because it takes time, effort and commitment. The benefits are enormous for those who have persevered and many have been able to gather considerable wealth by using the "Master Mind" participle.
Robert Kiyosaki, author of "Rich Dad Poor Dad", and a multi billionaire through property investments says "The richest people in the world look for and build networks, everyone else looks for work". So do what the rich do and join the Australian Investment Property Network for investors so you can become rich as well OR just continue to work like everybody else and retire broke. It's your call!
The principles of The Australia Investment Property Network are:
Sharing
We share our knowledge and experience with others. You hard wire into the knowledge of others as we us the law of reciprocity "giving and taking".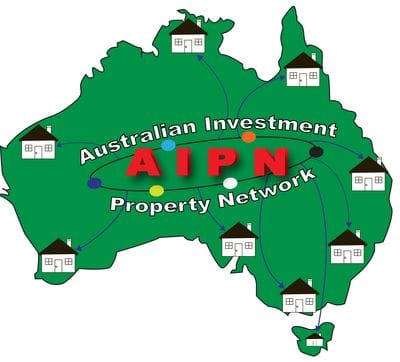 Learning
The most successful people are those who are teachable. Always be prepared to learn from others because everyone has a story and something valuable to share to help you grow your wealth.
Experience
Life's mistakes keep recurring until you learn from them. Mistakes can be very expensive lessons so listening to others as they share their success and failures is key to your success.
Mentoring
We learn more when we help others. We learn more when we teach others. Be prepared to give of yourself and you will always continue to prosper.
How the AIPN will benefit you.
AIPN groups will hold a meeting every 3 to 4 months. Guest speakers are invited and members will share their knowledge, success and failures. Confidentiality of the group is paramount. Each attendee pays $20 for the evening to pay for the venue hire and refreshments. Members can nominate a family member to attend the meeting if they cannot attend an event. Members can bring a guest to the meeting at no cost to the guest for the first visit.
Members will receive a monthly newsletter via email, which will cover the news from AIPN group and any valuable information that the groups want to share with other groups. Sharing is encouraged.
A monthly webinar will be broad casted to members. This will cover the latest news and research from the property market. The webinar will be made available to members on the website for those who could not attend the webinar on the night.
James Cagney will interview experts in property, wealth creation, economics, shares, futures and other related fields to assist us to grow our wealth. A DVD of this is available at $10.00 to cover the cost of production, packaging and postage.
An on-line forum will be available for members. This is an opportunity for members to share with other members, ask questions and get advice.
A National Conference will be held annually. Members will benefit from a host of expert speakers and members of the AIPN are invited to present and share on stage at the conference.
Membership costs $87 per single and $97 per couple per Annam and renewable on the anniversary of the date of joining the AIPN. The fee will be used to help with the start up of Network Groups and for the National Conference. The more the AIPN grows the more benefit you will receive from the "Mater Mind".
The Australian Investment Property Network is looking for members that want to pave out a better future for themselves, their family and be genuinely interested in helping others to succeed.
"Whatever you vividly imagine, ardently desire, sincerely believe and enthusiastically act upon, will inevitably come to pass"
Paul J Meyer, Founder Success Motivation Institute
To find out more OR join the Australian Investment Property Network click >>>>>> HERE.
If you want insight into what is happening in real estate, immigration society and politics in Australia click>>>> HERE. Some of these articles will be hair-raising and controversial so please take time to go to this section NOW or ignore them at your own peril. You can also access previous 'Property Updates" for a realistic and practical view on the Australian property market and not opinion from property spreukers. Do it NOW because......procrastination is the biggest cause of failure and "ONE of these days"..... is....."None of these days"......click>>>HERE.
Interested in the other services we provide then click on the Tabs above OR call the Property Hotline on + 61 416 137 645 OR . Please call between 09h00 to 18h00 Australian Eastern Standard Time (AEST).
Disclaimer
This is not financial advice. You should not act solely on the basis of the material contained on this website. Changes in legislation occur frequently and without prior notice. Property Cycles are subject to frequent change so items herein are general comments only and do not constitute or convey advice PER SE.
IRPS Associates Pty Ltd, P O Box 838, Helensvale, Qld 4212
Tel: +61 416 137 645